XxMegglesxX
"vibing"
23, she/her, taken
Last active:

SpaceHey URL:
https://spacehey.com/profile?id=132448
XxMegglesxX's Interests
| | |
| --- | --- |
| General | Music, creepy things, witchcraft, frogs, anime, video games, the rawring 20s, writing fanfics |
| Music | Ghost, Breaking Benjamin, Asking Alexandrie, Avenged Sevenfold, Three Days Grace, All Time Low, Staind, Bowling For Soup, A Day to Remember, My Darkest Days, Bullet For My Valentine, In This Moment, Kamelot, TOOL, Rob Zombie, and waaayyyyy more! |
| Movies | Howl's Moving Castle, Spirited Away, pretty much all Studio Ghibli! All the Saw movies, Final Destination, Wrong turn, A Nightmare on Elm Street, and Chucky movies! |
| Television | Game of Thrones |
| Books | From Blood And Ash by Jennifer Armentrout! |
| Heroes | |
XxMegglesxX's Latest Blog Entries [View Blog]
There are no Blog Entries yet.
XxMegglesxX's Blurbs
About me:
Heyoo, my name's Megan but you can call me Meggle! I am 23 and happily married, just looking for friends! And to blog a bit xD Uhmm I'd say I lead a pretty average life for the most part, I like anime and video games! And books! And... Witchcraft lmao the usual! I have loads of anxiety about most things but think I am a pretty easy person to get along with:) I also write from time to time, and listen to way too much music in my free time xD I also looooveeee horror movies and creepy things!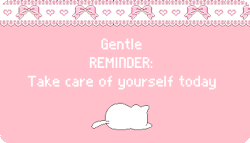 XxMegglesxX has 26 friends.