Andrea_the_horror_glamazon
"Drove 36 hours across 3 states in the past week. "
Last active:

Contacting Andrea_the_horror_glamazon
SpaceHey URL:
https://spacehey.com/profile?id=119448
Andrea_the_horror_glamazon's Interests
| | |
| --- | --- |
| General | Music, live shows, hair, makeup, tattoos, piercings, spoopy stuff, horror movies, collecting VHS tapes and vinyl, collecting goth or horror art, Last Podcast on the Left, and going out dancing or bar hopping when there isn't a global pandemic. |
| Music | H.I.M., Drab Majesty, TR/ST, the Cure, the Roots, A Tribe Called Quest, David Bowie, Ministry, Cold Cave, Lil Peep, Bauhaus, Trevor Something, xxxtentacion, Igorrr, Ghost, Vitamin String Quartet, Seabound, Royksopp, Johnny Horton, the Birthday Massacre, Depeche Mode, Juice WRLD, Lord of the Lost, Soulfly, Selpultura, Joy Division, Erasure, Gorillaz, Interpol, Vast, Cut Copy, Deftones, Telefon Tel Aviv, Air, Donna Summers, The Used, I Monster, Radiohead, Mr. Kitty, Otep, IAMX, John Carpenter's scores, Hans Zimmer, Outkast, Covenant, Portishead, Skinny Puppy, OhGr, Wolfsheim, ODB..... And so much more. |
| Movies | |
| Television | On repeat for almost a decade. Say what you will about this show, but it's really good, and the special effects makeup is amazing! |
| Books | |
| Heroes | |
Andrea_the_horror_glamazon's Links
Andrea_the_horror_glamazon's Latest Blog Entries [View Blog]
There are no Blog Entries yet.
Andrea_the_horror_glamazon's Blurbs
About me:
Born in Germany, raised in Austin, TX, living in L.A. with my grumpy dog. I'm a cosmetologist, so I love playing dress up, and doing my hair and makeup randomly. Still setting this up, it's been a long time since I've used this format in the MySpace days. Here, enjoy a picture of my cute dog until I can figure all this shit out.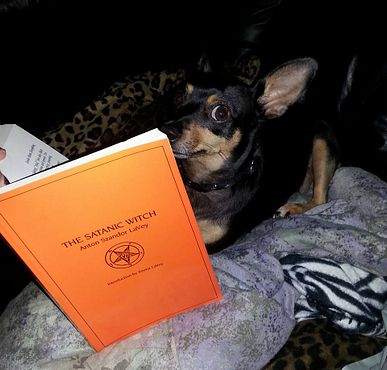 Who I'd like to meet:
Andrea_the_horror_glamazon's Friend Space
[view all]
Andrea_the_horror_glamazon has 65 friends.