Xx_𝓢𝓬𝓮𝓷𝔂𝓪_xX
SpaceHey URL:
https://spacehey.com/xx_scenya_xx
Xx_𝓢𝓬𝓮𝓷𝔂𝓪_xX's Interests
| | |
| --- | --- |
| General | Videogames, retro computing, toys, alt-fashion, makeup, quirky tech, cooking |
| Music | マクロスMACROSS 82-99, Desired, android52, Vantage, Night Tempo |
| Movies | I cried with the Casper movie. |
| Television | Sailor Moon, Power Rangers |
| Books | I'm supposedly reading Walden right now, but it's going slooooow x_x |
| Heroes | Tsubasa Hanekawa, Minako Aino |
Xx_𝓢𝓬𝓮𝓷𝔂𝓪_xX's Latest Blog Entries [View Blog]
Of Spacehey and the Internet Childhood... (view more)
Xx_𝓢𝓬𝓮𝓷𝔂𝓪_xX's Blurbs
About me:
Hello! My name is... complicated! But you can call me Scenya!
I'm a time displaced scene catgirl that got stuck on a time void for a few decades, then found a vaporwave portal back home.
I'm here trying to fix a decades old mistake and explore a part of the world I missed back then. Second time's the charm!
Some assembly still required...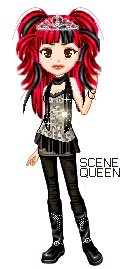 Who I'd like to meet:
People that also feel the effects of time displacement, of having been unable to be whatever they wanted to be when they should, and have just said "fuck it" and gone for it, society, age, body, and internet be damned!
Xx_𝓢𝓬𝓮𝓷𝔂𝓪_xX has 223 friends.