Scott Galvin
SpaceHey URL:
https://spacehey.com/thefoodpyramid
Scott Galvin's Interests
General

concerts
ebay & thrifting
exercise
html & neocities
juicing
my 83 plymouth scamp
writing jokes



Music

20 dead flower children
alex chilton
alice glass
alice in chains
allie x
amy winehouse
ash
ashnikko
atom pop
baby goth
banks
beabadoobee
bebe rexha
the big moon
billie eilish
billy joel
the black lips
blink 182
the box tops
brand new
carly rae jepsen
caroline palochek
cat stevens
charli xcx
chevelle
crystal castles
coal chamber
collective soul
danz cm
deadsy
digable planets
drain sth
elbow
elohim
egostatic
eyes adrift
foster the people
fu-schnickens
gin blossoms
go go berlin
godhead
grimes
gruff rhys
guano apes
halsey
hanson
heatmiser
hole
iggy azalea
ini kamoze
jack off jill
the judybats
juliana hatfield three
kate nash
kim petras
kittie
l7
lady gaga
the lemonheads
local h
the long winters
mars argo
megadeth
mother may i
the muffs
mushroomhead
night club
nirvana
odesza
orgy
otep
pale waves
plone
polaris
poppy
the posies
pynkie
the refreshments
the regrettes
the replacements
rina sawayama
rogue wave
silverchair
silverstein
the smithereens
superdrag
teenage fanclub
terror jr
tinted windows
tlc
toad the wet sprocket
ünloco
the used
vanilla sugar
vérité
yeasayer
last.fm



Movies

baseketball
the baxter
borat
borat 2
the brothers solomon
burn after reading
detroit rock city
the dirt
forrest gump
freddy got fingered
god bless america
grind
half nelson
holes
the jerk
lars and the real girl
the notebook
o brother, where art thou?
rocky series
role models
the soloist
the ten
terminator
terminator 2
they came together
the unbookables
you cannot kill david arquette
wanderlust
the weather man
wet hot american summer
what's eating gilbert grape?

Television

aqua teen hunger force
catfish
cobra kai
dark side of the ring
game shows
glow
heels
pro wrestling
scrubs
seinfeld
the simple life
stella
the state
you


Books

the center cannot hold
heavier than heaven
i killed
of mice and men
watchmen


Games

cattails
golf story
nba jam
promotion wars
punch club
rekt
retromania
rocky
tribes
wii sports
wii sports resort
wrestling empire
wrestling revolution 3d


Heroes

anthony jeselnik
charli xcx
david wain
doug stanhope
grimes
halsey
harry mack
joe hendry
kim petras
kurt cobain
lindsay lohan
mdickie
miley cyrus
paris hilton
ryan gosling
smarterchild
Scott Galvin's Latest Blog Entries [View Blog]
Scott Galvin's Blurbs
About me:
wrestling fan


rockford, illinois


comedian 🎤
pisces ♓
linktr.ee 🌲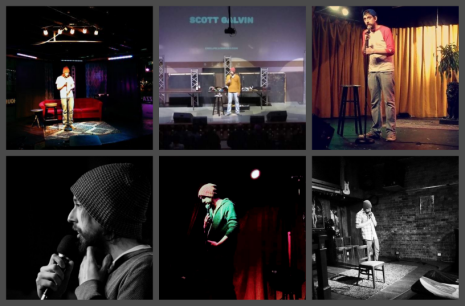 my debut album "Breathing to Death" is available on apple music, spotify, youtube and more @ www.scottgalvincomedy.com


Scott Galvin has 1447 friends.