🦕🍭💎oScAr unDeAd💎🍭🦕
"school D:"
He/Him | dont be creepy ):
Last active:

Contacting 🦕🍭💎oScAr unDeAd💎🍭🦕
SpaceHey URL:
https://spacehey.com/zombietherobotdog
🦕🍭💎oScAr unDeAd💎🍭🦕's Interests
| | |
| --- | --- |
| General | My Chemical Romance, Twilight, Creepy Cute stuff, Kandi, Skulls, Og Emo fashion, The Heather's, Comics |
| Music | Pierce The Veil, My Chemical Romance, Black Veil Brides, Bring Me The Horizon, La Dispute, Muse, Millionaires, Asking Alexandria, SlipKnot, SHE WANTS REVENGE, The Used, THe USed, THE USED, DID I MENTION THE USED???? >XD |
| Movies | Scott Pilgrim Vs The World, Life On The Murder Scene, The Twilight Saga, stuff like that blehh |
| Television | Soul Eater,Would Dan And Phil count here??? because if so Dan and Phil, Markiplier, Mostly Gaming channels. |
| Books | Twilight, The True Lives Of The Fabulous Killjoys, The Umbrella Academy |
| Heroes | Frank Iero, Andy Sixx, Daniel Howell, Gerard Way, Bert Mccracken, Jepha Howard, EMO HUMANS LOL |
🦕🍭💎oScAr unDeAd💎🍭🦕's Links
🦕🍭💎oScAr unDeAd💎🍭🦕's Latest Blog Entries [View Blog]
🦕🍭💎oScAr unDeAd💎🍭🦕's Blurbs
About me:
Hello!! I'm Oscar but you can callz me Oz or Ozzie or idrc what you call me nvm! XD my pronouns are he/they and i'm queer :P Im also like rly obsessed with My Chemical Romance :3 P.s I'm dumb and emo XP feel free to message me anytime!! :D About Me:

Who I'd like to meet:
Bert Mccracken!!!! He's so cool :3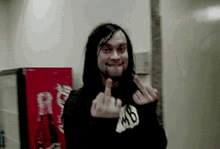 🦕🍭💎oScAr unDeAd💎🍭🦕 has 173 friends.