𝚓. 𝚍. 𝚝𝚘𝚘𝚖𝚋𝚜 🏳️‍🌈✍🏽 JUDD OUT MARCH 5
"When you hide apart of who you are, you hide your true potential!"
Writer, artist, reader
Last Login:

Contacting 𝚓. 𝚍. 𝚝𝚘𝚘𝚖𝚋𝚜 🏳️‍🌈✍🏽 JUDD OUT MARCH 5
SpaceHey URL:
https://spacehey.com/jdtoombs
𝚓. 𝚍. 𝚝𝚘𝚘𝚖𝚋𝚜 🏳️‍🌈✍🏽 JUDD OUT MARCH 5's Interests
General

J. D. Toombs is a married gay, gender non-conforming male debut author that was born and raised in rural Alaska. Learning how to read at a very young age, he became instantly enthralled in literature beyond his years, soon after beginning to create his own stories throughout high school.

Cover art of JUDD and pictures on this profile by Wherly Luk, her Instagram
@Irichika_Illustrations

Occupation

Self-published author


Works

• JUDD (March 5, 2021)

Genres

• Young Adult
• Fantasy
• Action
• Urban Fantasy


More

• LGBT
• BIPOC
• Diversity
• Superheroes


Music

Our main character, Sam, is a big fan of Punk music from the 90's, 2000's like Green Day and Mindless Self Indulgent, and even the more classic bands, like the Sex Pistols.



Movies

Action, comedy, horror, thriller/suspense, drama and superhero movies.

Television

Same exact as above, although add anime into that (I guess anime can be in movie form as well.) I'm really enjoying WandaVision so far!

Books

Fantasy above all, but also horror, action, comedy, drama, crime, literally any mixture of the above Cemetery Boys by Aiden Thomas

Heroes

Deadpool
𝚓. 𝚍. 𝚝𝚘𝚘𝚖𝚋𝚜 🏳️‍🌈✍🏽 JUDD OUT MARCH 5's Links
𝚓. 𝚍. 𝚝𝚘𝚘𝚖𝚋𝚜 🏳️‍🌈✍🏽 JUDD OUT MARCH 5's Latest Blog Entries [View Blog]
Chapter 1 & Chapter 2 (Blog Previews Series) (view more)
I'm FINALLY Starting My Author Blog (view more)
JUDD (The Fragmented Chronicles, Book 1) (view more)
𝚓. 𝚍. 𝚝𝚘𝚘𝚖𝚋𝚜 🏳️‍🌈✍🏽 JUDD OUT MARCH 5's Blurbs
About me:


JUDD is an LGBTQIA+ BIPOC led Young Adult superhero Urban Fantasy about a teenage boy struggling to accept himself. Only a couple of Samael Judd's closest friends know the secret that he's gay. The only way for Sam to get his powers is for him to accept himself and let everyone know who the real him is, but he's just not comfortable with the idea.

LINKS
Queer Lit - if you live in the UK, get your paperback copies here. Hopefully, they'll be able to ship outside the UK soon, too.
Barne's & Noble - for hardcover, paperback and NOOK eBook editions.
Books2Read - for eBook copy from most major eReader stores.
Goodreads - add JUDD to your Goodreads shelves; rate and review it when you get the chance to read it. Reviews help authors, especially indies.

"A fresh take on the superhero genre and an exciting young adult coming-of-age story that encourages readers to be themselves and to find power in who they are." ⭐⭐⭐⭐

- Kayla C. Reviews



A playlist I put together that I feel is a good soundtrack to this book. Content Warning, there is a song called "F****t" in there, it's by Mindless Self Indulgence, also, Punk music is created by, well, punks in the 2000's, 90's and earlier, so don't expect much political correctness.





👆🏽 CLICK HERE FOR MY HOMEPAGE/BLOG 👆🏽
Who I'd like to meet:
Deadpool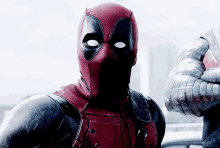 𝚓. 𝚍. 𝚝𝚘𝚘𝚖𝚋𝚜 🏳️‍🌈✍🏽 JUDD OUT MARCH 5's Friend Space
[view all]
𝚓. 𝚍. 𝚝𝚘𝚘𝚖𝚋𝚜 🏳️‍🌈✍🏽 JUDD OUT MARCH 5 has 114 friends.